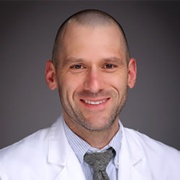 T. Scott Robbins, MD
Education
7/2014 – 5/2018 / Texas Tech University Health Sciences Center El Paso Paul L. Foster School of Medicine in El Paso, TX – MD
1/2012 – 5/2014 / Stephen F. Austin State University in Nacogdoches, TX – MS-Biology
8/2001 – 5/2007 / Tulane University in New Orleans, LA – BS-Cell and Molecular Biology
Medical Training
7/2021 – 6/2023 / Nephrology Fellow – Duke University School of Medicine Department of Nephrology
10/14/22 – 10/15/22 / Attendee – University of Alabama at Birmingham CRRT Academy
5/10/23 – 5/11/23 / Attendee – University of Alabama at Birmingham Home Dialysis Academy
6/2018 – 6/2021 / Resident Physician – Tulane University School of Medicine Department of Internal Medicine
Work Experience
8/2023 – Present / Employee Physician – Mountain Kidney & Hypertension Associates, P.A.
7/2021 – 6/2023 / Nephrology fellow – Duke University School of Medicine Dept of Nephrology
6/2018 – 6/2021 / Resident Physician – Tulane University School of Medicine Dept of Internal Medicine
6/2013 – 7/2013 / Research Assistant – Stephen F. Austin State University Department of Biology
1/2012 – 5/2012 / Graduate Teaching Assistant – Stephen F. Austin State University Department of Biology
10/2009 – 12/2011 / The United States Peace Corps – Ukraine
6/2009 – 9/2009 / Manual Laborer – Angelina Excavating Inc. in Lufkin, TX
8/2008 – 5/2009 / Substitute Teacher – Lufkin (TX) Independent School District
5/2008 – 7/2008 / Camp Counselor – Tulane University Ripples Summer Day Camp
5/2005 – 8/2006 / Primary Caregiver for disabled parent (approved time off from undergraduate studies)
Credentials
Active 7/2021 – Present / North Carolina, State Medical License
2021 / Board Certified, American Board of Internal Medicine
Board Eligible, American Board of Nephrology
Professional Affiliations / Committees
2021 – Present / American Society of Nephrology (ASN)
2021 – Present / National Kidney Foundation (NKF)
2014 – Present / American College of Physicians (ACP)
2014 – Present / American Medical Association (AMA)
Publications
Case Report
Shah, C.V., Robbins, T.S., Sparks, M.A. Role of SGLT2 Inhibitors in Management of Refractory Hypomagnesemia Without Overt Urinary Magnesium Wasting: A Report of 2 Cases. Accepted on 8/2/22 for publication in Kidney Medicine. Manuscript number: KIDNEYMED-D-22-00153R1.
Peer Reviewed Abstracts
Shi, H., Sassen, N., Robbins, T.S., Foote, J., Stencel, J. Reverse Takotsubo Cardiomyopathy from Subarachnoid Hemorrhage after Adderall. Abstract published at Hospital Medicine 2020. May 2020.
Karube, T., Rosales, N.G., Do, A., Robbins, T., Antony, T., Moreno, C., Francis, D., Rosas-Blum, E.D. Sa1416 – Characteristics of Pediatric Acute Pancreatitis in a Single Center Located at the US-Mexican Border. Abstract published in Gastroenterology, volume 154, issue 6, supplement 1. May 2018.
Poster Presentations
Robbins, T.S., Sparks, M.A. Resolution of Refractory Hypomagnesemia with Empagliflozin in a Patient without Urinary Magnesium Wasting. National Kidney Foundation, Spring Clinical Meetings. April 2022.
Robbins, T.S., Chiurco, J., Warsame, F., Shi, H., Alai, H. Profound Complete Atrioventricular Block with Lyme Myocarditis. Louisiana Chapter of the American College of Cardiology, Annual Meeting. September 2019.
Robbins, T.S., Rosas-Blum, E.D. Characteristics of Acute Pancreatitis in Children on the US-Mexico Border: A Retrospective Analysis from a Predominantly Hispanic Community. PLFSOM Annual Research Symposium. April 2018.
Research Experience
8/2016 – 4/2018 / Acute pancreatitis Among Children in the US-Mexico Border Region: A Retrospective Analysis – Personal , Work presented at student research day at TTUHSC El Paso and was co-author along with Denease Francis, M.D. and Eduardo D. Rosas Blum, M.D. in abstract publication in American Gastroenterology Association's Gastroenterology journal
8/2016 – 9/2016 / Department of Health Informatics at TTUHSC El Paso – Protocol developer for quality measure improvement under Ogechika Alozie, M.D.
1/2014 – 5/2014 / Genus Amatitlania (convict cichlid fish species) and visual system adaptation – Student researcher at SFASU under Jennifer Gumm, PhD
9/2013 – 3/2014 / Anatomical analysis of Apis mellifera (western honey bee) with a scanning electron microscope – Student researcher at SFASU under Josephine Taylor, PhD
6/2013 – 7/2013 / Genus Cyprinodon (pupfish species) and species hybridization – Student researcher at SFASU under Jennifer Gumm, PhD
Nephrology Presentations
Case Conference Presenter
2/2022 / Scleroderma renal crisis
11/2021 / Propylene glycol toxicity
8/2021 / Tunneled hemodialysis catheter related blood stream infection
Grand Rounds Presenter
1/2023 / CRRT and Management of Dysnatremias
5/2022 / Trends in the Utilization of Peritoneal Dialysis
Journal Club Presenter
10/2022 / Wiles K, et al. Nephrol Dial Transplant. 2021. PMID 33313680
2/2022 / Johansen KL, et al. Clin J Am Soc Nephrol. 2022. PMID 35110377
4/2021 / ESRD and Associated Complications – Lecture series completed along with Adrian Baudy, MD (Associate Professor and Nephrology Fellowship PD at Tulane University SOM) assessing remote learning and knowledge retention
Leadership
2022 / Nephrology Business Leadership University (NBLU) graduate
7/2020 – 7/2021 / Tulane SOM Owl Club Award nominee – Internal Medicine Best Resident
7/2020 – 4/2021 / Medical Education – Nephrology topic lecturer for 3rd year medical students
7/2020 – 2/2021 / Internal Medicine clinical preceptor for 2nd year medical students
8/2015 – 5/2017 / President and Cofounder – Medical Student Sports Association (MSSA)
8/2015 – 5/2016 / Treasurer – Student Interest Group in Neurology (SIGN)
2013 / Who's Who Among Students in American Universities and Colleges
Volunteer Experience
8/2017 – 5/2018 / GiGi's Playhouse El Paso – Volunteer at center for individuals with Down syndrome
9/2015 – 4/2016 / Salud Sin Fronteras Clinica in El Paso – Student volunteer at migrant farmworkers health clinic
10/2014 – 5/2018 / PLFSOM Medical Student Run Free Clinic – Student volunteer
Languages
English – native language
Spanish – conversational and medically proficient